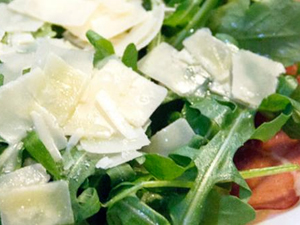 Ingredients:
200 g of fillet of ox
50 g very mature Parmigiano-Reggiano
sale, pepe
extra virgine olive
bunch of rocket
Preparation:
Salt and prepare the meat, firmly wrap it up with a transparent film and freeze it. Once freeze it, remove the film and cut it in very thin slices just covering every single plate you have to serve. Flavour the meat with a shred of oil. Clean the rocket, dress it with oil, salt and pepper and freely lay it down on the carpaccio. Complete the plate with some petals of Parmigiano-Reggiano.