Aromatic
tagliatelle
with
Parmigiano
Reggiano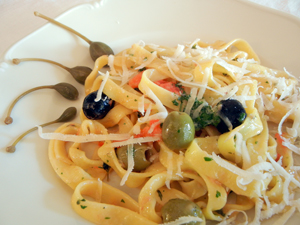 Ingredients:
400 gfresh tagliatelle
40 gcapers
100 gbutter
1a sprig of aromatic herbs
50 g green olive

50 gblack olive

200 g ripe tomatoes
25 cl olive oil

100 gParmigiano-Reggiano
salt and pepper
Preparation:
Blend the butter until you obtain a cream then add the aromatic herbs finely cut. Envelop the mixture in a plastic wrap and put it in the fridge. Peel the tomatoes, remove the seeds and cut them in pieces. Then put in a pan olives oil and tomatoes, capers, olives, salt and pepper. Separately cook the tagliatelle, drain them then put them in the pan with the gravy and blend for a few minutes. Remove the pan from the fire and add to the pasta the butter at the end put grated Parmigiano on the pasta and your plate is ready!